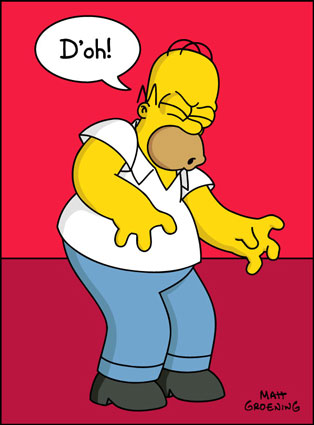 photo via Wikia.com
First, please accept my apologies for being gone from regular blog posts for so long.
While writing for
Ohio Watchdog
, I channeled much of my "thoughts" into those articles. When that assignment concluded at the end of 2015, I decided to take a break. However, I accepted work on another project that had absolutely nothing to do with politics.
That commitment prevented me from devoting time to my blog, but that is also concluded so...
I'm back.
And boy is there a lot to say.
We can start with everyone's favorite complaint: potholes and the state of Toledo's roads.
For over a decade, I've been warning anyone who would listen that transferring money out of the Capital Improvements Plan (CIP) fund and into the General Fund to pay for every day expenses was a bad idea.
Eventually, I explained, we'd run out of money in the CIP and wouldn't have anything left for capital items - like roads and other expenses with a life of five years or more.
Wouldn't you know it, I was right and that mess erupted in the first part of the year when Mayor Paula Hicks-Hudson and Toledo City Council decided to ask voters to approve an increase in the payroll income tax.
Fortunately, that measure went down to defeat - resoundingly.
But it hasn't solved the problem that the city doesn't have enough money for capital items because they've raided more than $110 million out of the CIP fund.
And it's not just this mayor. Every "strong" mayor had a hand in creating the problem: spending more than what they took in and spending money on non-essential items.
Want to know just how ridiculous things got?
In February 2012, Toledo City Council *discovered* they had about $1 million more in revenue than they budgeted. But they were planning to transfer nearly $12 million out of the CIP to balance the budget. So instead of reducing the amount of the transfer to $11 million, they decided to spend that $1 million extra instead.
And what did they spend it on
? A new filing system for city council and a temporary employee; additional funds for demolition of houses; additional inspectors in code enforcement, even though the department said it didn't need any; an executive director to run the previously discontinued Toledo Youth Commission; and a consultant to create an Historic Preservation Plan.
The irresponsible spending continues while former Council finance committee chairman and current City Treasurer George Sarantou, Toledo City Council and the mayor try to find a way to come up with more income rather than find a way to cut spending.
You see, there's no where else they can cut.
(At least, that's the story.)
So that's how we started the year and now we're looking at a sweetheart deal for Promedica, the city and the Metroparks.
Prime waterfront property on the East Side across from The Docks has been sitting undeveloped for decades. Various developers have come and gone and finally, Dashing Pacific Group bought it.
Their plan was to develop it with shops and housing and take advantage of the wonderful waterfront and the new road and light posts the city installed to help with development. But they haven't done anything on it yet and the city had a clause in the sale that said it could buy back the property after five years.
And it should tell you something about Toledo when all the developers who've had a chance at this have failed to actually *develop* prime waterfront property.
We must be the only city in the entire country that can't make a go of prime waterfront property.
But back to the sweetheart deal...
The city really doesn't have the cash to buy back the property, so Promedica has agreed to purchase the property from Dashing Pacific. They will hold it for a bit and then sell it (for the purchase price) to the Metroparks.
The Metroparks will then make this prime waterfront property a park.
Never mind that the Metroparks has two levies that property owners pay. In fact, the most recent one in 2012 was a 10-year levy that was supposed to generate funds for developing new parks, maintaining existing ones and preventing budget cuts. How much do you want to bet that they'll need another increase when they purchase about 100 more acres and then want to make this prime waterfront property into a park area?
Something about this isn't quite right. Why does Promedica want to purchase the land only to sell it to the Metroparks?
Can't Dashing Pacific sell it to the Metroparks without a go-between?
If the city has the ability to buy back the land, why don't they do so, especially if they've got a willing buyer in the Metroparks?
Are there some restrictions with the funding sources used to clean up the property and install roads and street lamps that prevents it from going directly to another governmental entity like the Metroparks?
Inquiring minds....
And then there is the Southwyck property. The mall sat unused for - well, no one really remembers how long because it was such a long time. The city finally got the property from the owner, tore down the buildings and decided to market it as an open area for development.
Oh - and they borrowed money to do the demolition.
Now there is a buyer but the city is looking at a loss on the project. As one city councilman said - they didn't buy the land in order to make a profit...
But here's the thing. They still have a loan and, according to various media reports, they (or rather you and I) are paying about $70,000 in interest every year on that loan.
So the city is going to pay off the loan with the income from the sale, right?
No - this is Toledo, so wrong!
The city isn't planning on paying off the loan but putting the money into the CIP fund. So you and I and every other taxpayer is going to continue to pay about $70,000 in interest so the city can spend that income elsewhere.
If you're wondering what they're thinking at city hall, see above story about the 2012 budget.
Sadly, this is par for the course.
So that's the start. Coming up I'll take a look at the absolutely insane Toledo ordinance that forces any company doing business with the city to have a union contract - even if they're a non-union company. Talk about forced unionization! Here I thought it was the union's job to organize but Toledo's Project Labor Agreement ordinance actually puts the city at the bargaining table with project bidders and forces them to adopt a union contract.
That'll be a long post so I'll save it for Monday.